Extracurricular Opportunities
Summer 2023 - Be the best You can be!
Article 29. Education must develop every child's talents and abilities to the full. 
At Trafalgar School it is our aim to ensure students develop a lifelong love of learning. In addition to our formal curriculum, we offer a broad range of extra curricular opportunities to inspire passion for existing and new areas of interest.  This offer provides students with the cultural understanding, resilience and communication skills needed for them to excel beyond school.
All curriculum areas offer a wide range of trips during the year in addition to a range of clubs both at lunch times and after school.
We are committed to ensuring that all students have access to a wide range of experiences. If your child is in receipt of the Pupil Premium grant and finance is a barrier, please get in touch and we will look to support you and your child. 
Timetable for 2023-24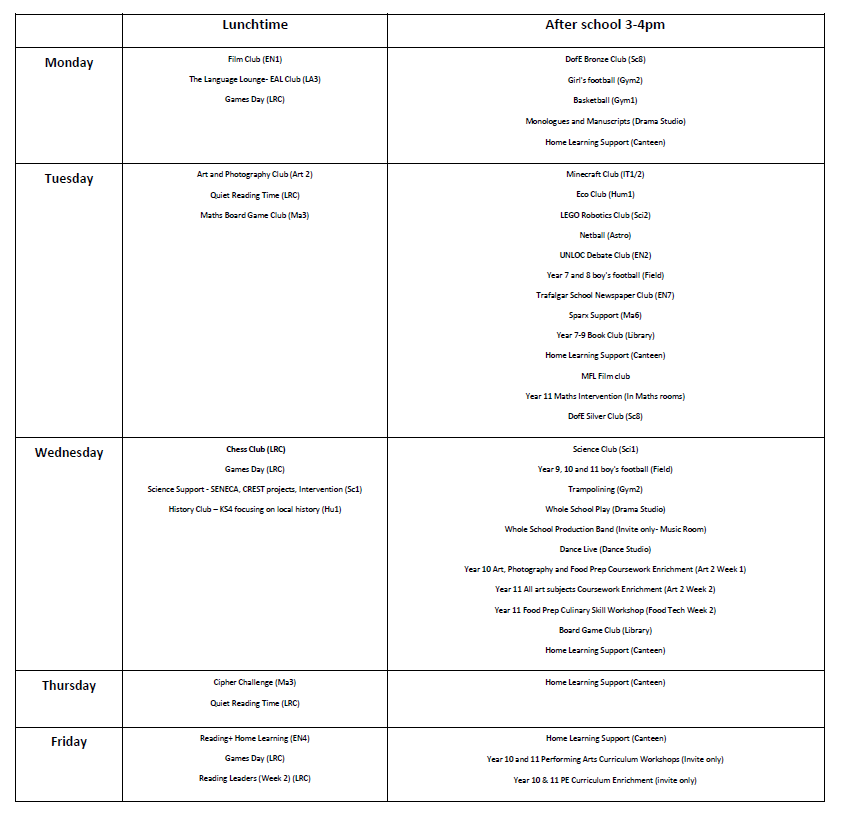 Click here to see a larger version
 
activities week
Activities Week runs towards the end of the summer term. This promises to be a week packed full of exciting opportunities, which will enrich the experience of our students. Each department has planned a variety of activities, which focus on enhancing the learning of students in their subject. We see this as our chance to get out into the community far and wide.
For any further questions or queries please contact us on activitiesweek@trafalgarschool.org.uk
To make payments for any trips, please click the link below: