Reading Hub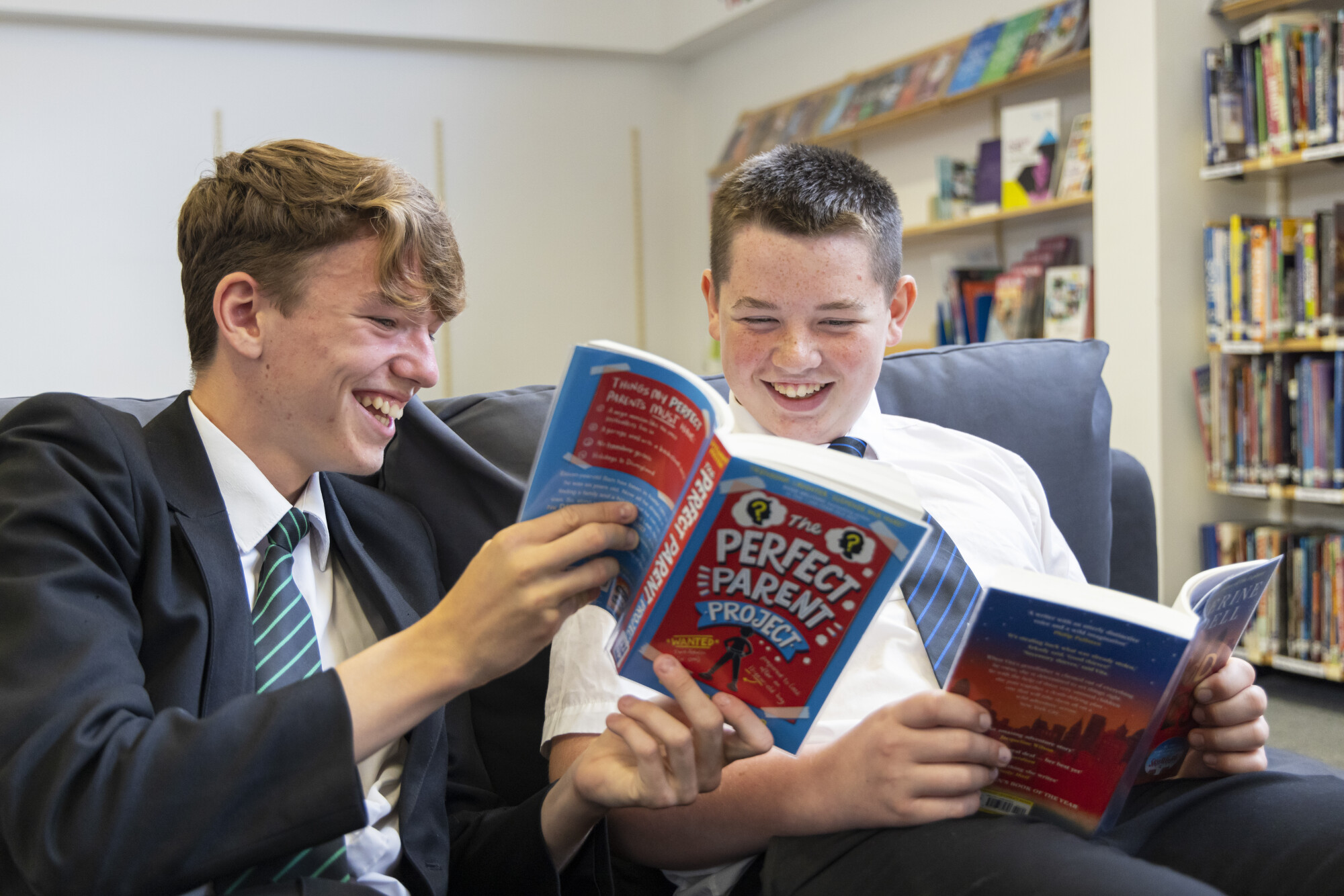 The development of student's literacy is at the forefront of our curriculum as we understand how reading  can bridge cultural capital deficits and improve student's educational outcomes and life chances. We ensure pupils have opportunity to access challenging reading texts across subjects, high quality interventions and have opportunities to read for pleasure.
Make books a part of family life – Always have books around at home. That way you and your children are ready to get reading, even if it's only for ten minutes.
Join your local library. Get your child a library card. They'll be able to get their hands on hundreds of fantastic books, as well as the latest video games, blu-rays and DVDs. Let them choose what they want to read to help them develop their own interests.
Read about something they're interested in. help your child find the right book for them. It doesn't matter if it's fiction, poetry, comic books or non-fiction.
All reading is good. Don't rule out non-fiction, comics, graphic novels, magazines or leaflets. Reading is reading and it's all worthwhile.
Get comfortable! Snuggle up together somewhere warm and cosy, whether it's in bed, on a beanbag or on the sofa. Make sure your child has somewhere comfy to read on their own too.
Ask questions. To keep them interested in the story, ask your child questions as you read. Start with 'Where did we get to last time?', 'Can you remember what's happened so far?' and 'What do you think will happen next?'.
Read whenever you get the chance. Have a book or magazine with you for any time your child has to wait, like at the doctor's or the dentist.
Read favourites again and again. Encourage your child to re-read the books and poems they love. Re-reading helps to build fluency and confidence.
Model reading for enjoyment as much as possible. Demonstrate how enjoyable reading can be by showing your child how much you enjoy reading!
Selected for you by Trafalgar students:
A Child Called It by Dave Peltzer
Inkheart by Cornelia Funke
Miss Kobayashi's Dragon Maid by Coolkyousinnjya
Percy Jackson by Rick Riordan
The Boy in Striped Pyjamas by John Boyne
The Hobbit by JRR Tolkien
The Hunger Games by Suzanne Collins
The Lion, The Witch and The Wardrobe by CS Lewis
The Longest Whale Song by Jacqueline Wilson
The Twilight Saga by Stephenie Meyer
Artemis Fowl by Eoin Colfer
Charlie and The Chocolate Factory by Roald Dahl
The Discworld novels by Terry Pratchett
Emma by Jane Austen
Gone by Michael Grant
The Harry Potter series by JK Rowling
The Mortal Instrument series by Cassandra Clare
Pig Heart Boy by Malorie Blackman
The Knife of Never Letting Go by Patrick Ness
Lucky Star by Cathy Cassidy
Cogheart by Peter Bunzl
Divergent by Veronica Roth
My Sister Jodie by Jacqueline Wilson
A Series of Unfortunate Events by Lemony Snickett
The White Giraffe by Lauren St John
Tiger Eyes by Judy Blume
To Sleep in a Sea of Stars by Christopher Paolini
War Horse by Michael Morpurgo
Wonder by RJ Palacio
The Diary of a Wimpy Kid series by Jeff Kinney
Dork Diaries by Rachael Renee Russell
Middle School Escape to Australia by James Patterson
Morganville Vampires by Rachel Caine
The Skullduggary Pleasant series by Derek Landy
The Stormbreaker Series by Anthony Horowitz
The Diamond Brothers series by Anthony Horowitz
The Book Thief by Markus Zusak
The Maze Runner by James Dashner
The Witches by Roald Dahl
The Vampire Diaries series by LJ Smith
At Trafalgar we recognise that reading for pleasure and the development of reading skills is key to being successful. Our of our priorities as a school is to encourage a buzzing whole school reading culture in which students increase their cultural capital and enjoyment in reading to facilitate success beyond school. Additionally, we encourage students to read across the curriculum and support students to do so using the 'Trafalgar 7' reading strategies across our whole school curriculum.
Reading Leaders
Students have been given the opportunity to apply to become Reading Leaders in order to promote our reading culture around the school and community. Year 8 and 9 reading leaders participate every year in the Portsmouth Book Award where they select their favourite book from a shortlist which they have spent time reading and reviewing.
Reading Across the Curriculum
This is included in every lesson across the curriculum. For ten minutes in every lesson, students are supported to read subject specific texts to aid their learning using the 'Trafalgar 7' reading strategies.
Trafalgar Big Read
During one tutor session a week, all tutor groups participate in reading circles. A text is provided with discussion questions that is linked to the current school focus and students use their community circle skills to support each other with shared reading.
Annual Reading Assessment
Every student in Years 7-10 are assessed using the GL EXACT reading assessment. This is a comprehensive assessment of reading ability and allows us to pinpoint areas that require improvement.
Bookbuzz
Every year 7 student is given a range of books to choose from and that book is purchased and given to them to keep.
Library and elibrary services
As well as a fully stocked library which has been recently renovated to create a comfortable space in which to read and relax, we also have our very own online elibrary to which every student is given a login and password so that they can take out ebooks and audiobooks to read them outside of school on their chromebooks and other devices. Students just need to ask their tutors for their elibrary logins and passwords to gain access to this.
Extra-curricular clubs and events
Every week there are reading clubs for all students to participate in. The Portsmouth Literature quiz club is comprised of students who read selected texts to
take part in a citywide reading quiz against other schools. We have recently started a Manga club for those students who enjoy reading Manga and anime.
Competitions
We regularly have reading competitions which include:
· Ereader of the month who wins a £10 Amazon gift card.
· Reading Circle tutor weekly competiton in which the best tutor group entry wins sweets for the whole tutor group.