Student Leadership
Our top priorities for 2022/23: 
1) Reading strategies to enhance students' comprehension
2) Staff are supported to develop ambitious curriculums which explicitly teach and celebrate diversity and inclusion
3) Ensure students are well informed and understand how to keep themselves safe
4) Increase awareness and support positive and respectful relationships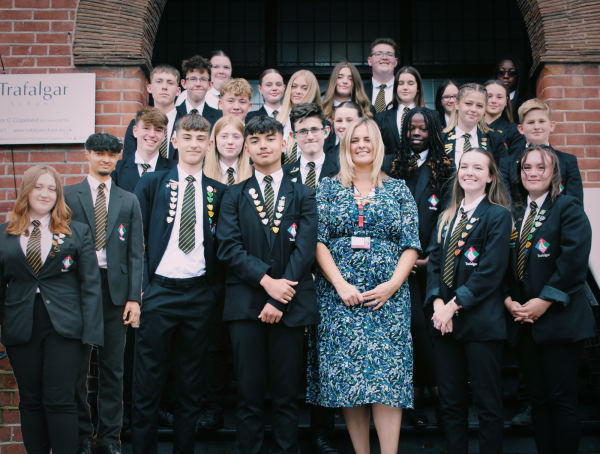 At Trafalgar School we pride ourselves on giving students every opportunity to voice their opinions within a respectful environment.
We also offer many different routes within Student Leadership in order for students to contribute to the wellbeing and development of the school at all stages of their career. Students are encouraged to contribute formally and informally through a variety of democratic structures; from council meetings to student surveys.
Mr P Dudley is the Student Council Coordinator and deals with the day to day running of this.
Aims:
To offer a range of roles and responsibilities to the student population
To promote active citizenship by establishing functioning democratic bodies and systems with real influence
To deepen student engagement
To contribute to whole school improvement
Roles within student leadership
The formal roles available to students are highly regarded and an excellent opportunity to contribute to the development of the school. All student leaders act as excellent role models for the student body. Click on the following links to learn more about these roles.  
Tutor Representatives attend council meetings and represent their tutor group's views.
Student Head of House are elected by the students and hold the most senior House Leadership positions available.
Student Ambassador is a position held by all Year 8 students and is an opportunity to assist for a day; meeting and greeting visitors, conducting tours, being involved with interviews and representing the student body of Trafalgar School at the front of school.
Prefect positions are open to upper school students only. Prefects hold key responsibilities and represent the school regularly at parents' events.
Subject Ambassadors represent departments within the school, speak to the Curriculum Leader for details. 
RP Ambassadors promote relational practice at every opportunity and help others to build, maintain and repair relationships. 
Digital Leaders will help keep you safe online.  
Deputy Head Boy & Girl support the Head Boy and Head Girl in their day to day running of the school. This is the penultimate leadership position available to students in the school. Deputy Head Boy / Girl is depended upon to represent the school at numerous events and represent the Head Boy / Girl in their absence.
Head Boy & Head Girl are the most senior student leadership roles in the school. The Head Boyand Girl meet regularly with the Executive Headteacher, represent the student body at parent events and attend Governing Body meetings.
Student Leadership Structure: