Music
Our curriculum aims to challenge and inspire students to make excellent progress throughout the Performing Arts department. Through knowledgeable and motivating teaching, students will learn a variety of skills that build on subject specific knowledge from year to year, giving students aspirational goals for the future through our BTEC components. Through the curriculum, students will learn to be responsible for their own process and personal development, taking ownership of their learning and development. We will encourage students to take charge of their own learning, giving them an opportunity to explore the world around them through the practical application of a wide range of styles, and the study of genres; as well as to partake in practical group work and research tasks that focus on the development of music theory, performance skills and musical techniques. 
Our teaching inspires and encourages communication, team-work and builds confidence from lesson to lesson. It is our hope that lessons equip students with the skills, knowledge and understanding of professional musicians within the music industry. 
Through our Extra-curricular provision, students will engage in all aspects of performance and expand their knowledge of professional musicians.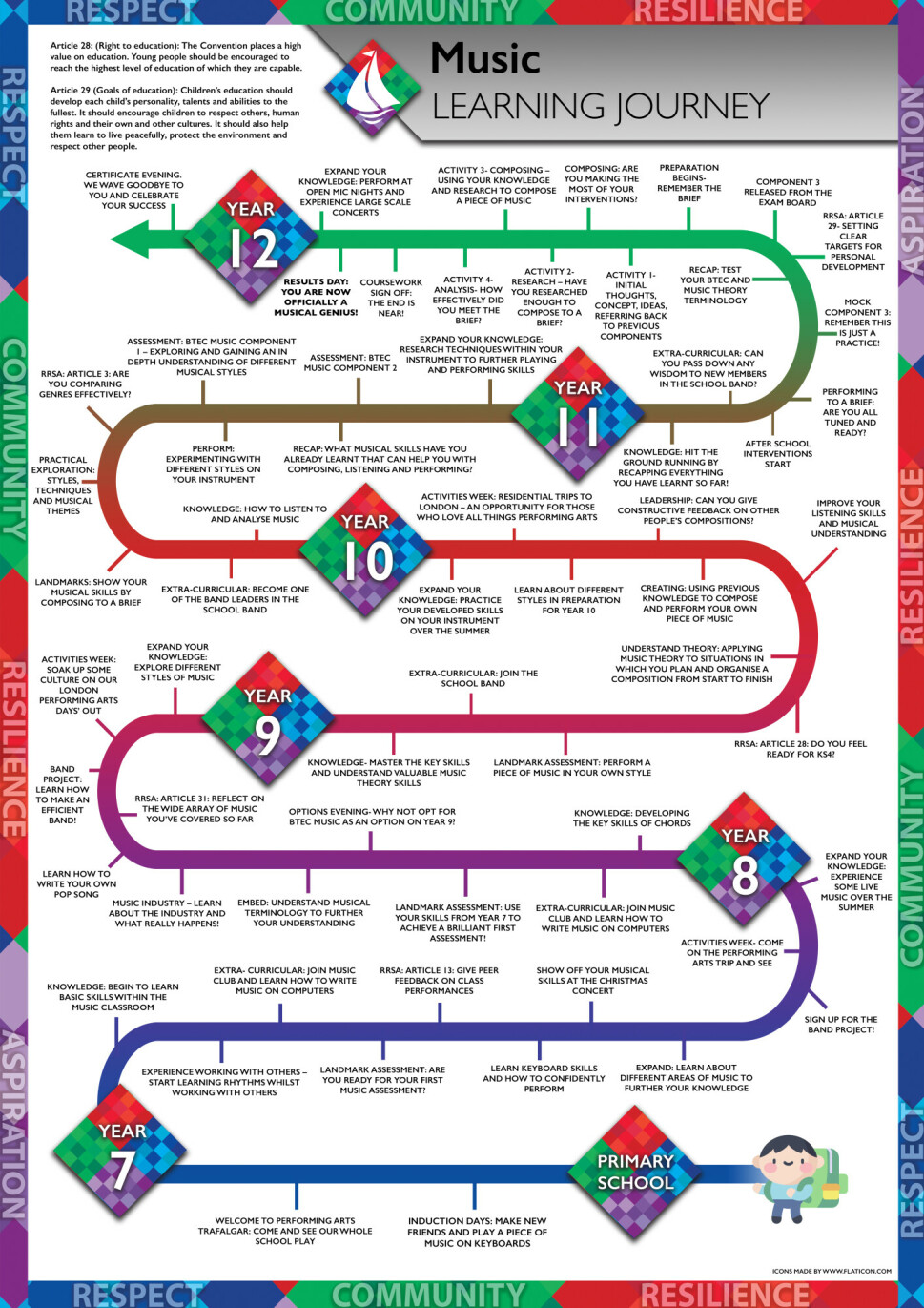 Key Stage 3: 
Students will be assessed on 6 strands, equally weighted, including: music theory, listening skills, genre study, composition, performance
 

Assessment Window

Assessment Type / Topic

Year 7

25th April – 6th May 2022

 

Landmark assessment - Keyboard skills, reading notation and melody writing

Year 8

25th April – 6th May 2022

 

Landmark assessment - 4 chord song compositions - composing and performing

Year 9

13th - 24th June 2022

 

Landmark assessment - Genres project - responding to a commercial brief to create a portfolio of both research and performances, focusing on a specific genre
Key Stage 4:
BTEC Music – BTEC Tech Award in Music Practice - Pearsons
https://qualifications.pearson.com/en/qualifications/btec-tech-awards/music-practice-2022.html 
 

Assessment Window

Assessment Type / Topic

Year 10

13th - 24th June 2022

 

Component 1 - Exploring Music Products and Styles

Year 11

from 13th May 2022

 

Component 2 - Music Skills Development

Component 3 - Responding to a Music Brief
At KS3 students are expected to attend clubs for Music, Drama and Dance as part of their independent learning. As a department we offer a range of clubs so that students can develop both performance and non-performance skills at all levels. 
KS4 students are expected to complete one hour of homework a fortnight, working towards their coursework.
Music extra-curricular activities & interventions: 
Day

Club/Intervention (after school)

Monday

Year 11 intervention

Tuesday

Whole school play rehearsals

Wednesday 

Band Club (select pupils)

Thursday

Year 10 Intervention

Trafalgar Choir - open to all pupils

Virtual Music Club

Videos posted online every 2 weeks to Google Classroom for pupils to follow at home
Welcome to Music at Trafalgar School! 
I am very proud to be the Subject Lead for Music! Working with our hard working, dedicated Performing Arts team to provide high quality lessons for our pupils. I am incredibly passionate about the importance of engaging, active lessons that help pupils build confidence, learn new skills and grow as musicians. Giving pupils effective feedback through our developed digital feedback system provides meaningful feedback to enhance pupils' learning and development process. Our digital booklets encourage an engaging, interactive music lesson for every pupil, promoting personal development and musical progression. 
In my spare time I progress my own musical knowledge and understanding by continuing to learn piano, drums, guitar and bass, whilst testing my skills as a gigging musician.  
R Mounteney (Subject Leader) rmounteney@trafalgarschool.org.uk 
Samantha Edwards sedwards@trafalgarschool.org.uk